Site search
Web search


Climate Change/Global Warming Reports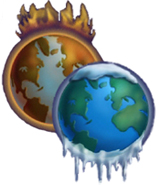 Climate is
the
prevailing weather conditions (winds, temperature, air pressure, humidity, rain, sunshine, and cloudiness) of a region or the earth over a long period of time i.e. decades, centuries and longer periods of time. Weather on the other hand is the condition of a region or Earth over a short period of time such as days or weeks.
More than a million species face extinction
from disappearing habitat, changing ecosystems, and acidifying oceans. Read more at: National Geograhic
"According to IPCC 2007 Report, sea levels will rise by 7-23 inches by the end og this century.."

Read more at
Conserve Energy Future
"

There is more carbon dioxide in the atmosphere

today

than at any point in the past 800,000 years, and the U.S. produces 25 percent of the carbon dioxide pollution from fossil-fuel burning.

"

Read more at Techtimes
"Allergies, asthma and infectious disease outbreaks will become more common due to increased growth of pollen-producing ragweed, high levels of air pollution and the spread of conditions favorable to pathogens and mosquitoes"
Read more at
NRDC

NOAA National Climatic Data Center

NCDC publishes the most recent national and international reports on the state of the climate as well as various other peer-reviewed papers and articles.

Climate Science related academic journals

A list of academic Journals which cary articles related to climate change, climate science, climate modeling and forecasting atmospheric physics....
Some graphics reproduced using Print Shop Deluxe, Broderbund Software, Inc. All Rights Reserved used by permission. The Classroom does not claim all descriptions of sites to be their own words. The Classroom makes no promises or representations about the gadgets on this site as to quality. content or performance