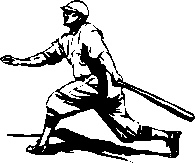 I am not sure when I began to pay attention to baseball games on television. I know it was about seven years ago and I was recovering from very serious heart surgery. Having developed an infection, I was on a painkiller, so I floated in and out of my immediate surroundings.
I couldn't sit up or walk around much. I lay flat in the bed, but out of the corner of my eye I could see the Braves play ball. As a kid I had played ball on a weed lot. We played whenever anybody brought a ball (usually lopsided and busted on a seam) or a bat (if we didn't have a bat, we found the straightest stick we could find). And we played Workup because we didn't have enough kids to have two teams. In Workup, every kid got to play every position in rotation. I liked outfield, maybe because it was so scary. We didn't have gloves, of course, and that ball came fast and hard into my hands. I still admire the outfielders most of any of the players; outfielders like Otis Nixon and Andrew Jones. So I got interested in the Braves over a period of several months, got excited over their becoming division champions and then league champions. At first I watched the game because I thought it was beautiful in its form and movement. I also loved the slow deliberateness of the game. I could close my eyes for a few minutes, float off on the drug I was taking, and come back to find that not a lot had happened, not so much that I was lost. Maybe some people don't like that about the game.
As time has passed and I am well, I still look forward to the baseball season. Gradually, I have learned why a player is deliberately walked to set up a double play, how one error can cost a team a game, why some pitchers stare down a batter and vice versa almost as much as they defeat each other by balls thrown or batted. I know now how a player like Fred McGriff was a steadying influence on the whole team, and how Denny Neagle's humor picked the team up. I am awed by Greg Maddux's control of the ball, but also wonder at his blowing things in the first inning, especially when he's on the road.
I don't understand the subtleties of pitching or the complexities of managing a team, but I sure enjoy someone's teaching me. My son knows much more than I do, so I depend on him to teach me when he can.
In short, this is my ode of joy, I guess, to a game which gave me pleasure when I was very sick, and continues to excite me now, every season, even this one. I had a hunch the Braves would be lucky to be Division champs.
Next season....