Gilded Age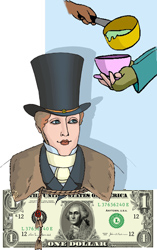 Mark Twain at the turn of the 20th Century coined the phrase Gilded Age. It described the
Industrial Revolution
with a society in which the influence of the farming declined and the power of wealth industrialist (called Robber Barons expanded). The Robber Barons became wealthier and the working class saw their fortunes and social positions decline.
Labor Unions
by using boycotts, strikes and legislation rapidly grew in power and influence.
| | | |
| --- | --- | --- |
| | | |
| American History | Age of Progress | Social Studies |
by Mark Twain, Charles Dudley Warner
edited by Leonard C. Schlup, James Gilbert Ryan
b
y E. I Perry, K M Smith
by Matthew Josephson
Online Resources
Some graphics reproduced using Print Shop Deluxe, Broderbund Software, Inc. All Rights Reserved used by permission. The Classroom does not claim all descriptions of sites to be their own words.
The Classroom makes no promises or representations about the gadgets on this site as to quality. content or performance